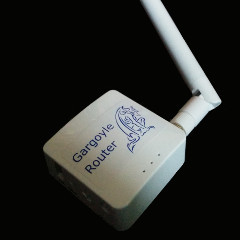 Properties
| | |
| --- | --- |
| Hardware Model | GL-AR150 |
| Chipset | Atheros AR9331 chipset |
| Firmware | Gargoyle v1.10.0 |
| Flash | 16MB |
| Memory | 64MB |
| Power Supply | AC input 100-240V, DC Out 5V 2A (via microusb) |
| Wireless Compatibility | 802.11 B/G/N, up to 150Mbps |
| RF Power | 27dB (60 mW) |
| Ethernet | 2x 100Mbps Port |
| Dimensions | 2.25" x 2.25" x 0.75" |
| Wireless Encryption | WPA2, WPA and WEP supported |
| Antennas | 1 |
| USB | 1x USB2.0 |
Gargoyle Pocket Router (v3)
The Gargoyle Pocket Router v3 is the the smallest Gargoyle Pocket Router yet, with all the features of its predecessors.
With a fast CPU, Wireless N functionality (up to 150Mbit/s), 64MB of memory, 16MB of flash storage and a USB port this router packs all the features you could want into one small, portable package. Most small routers similar to the Gargoyle Pocket Router have only one ethernet port, forcing you to choose between using a wired connection as a LAN port or as a WAN port. This router has two ethernet ports, allowing you to connect via a wired connection to both your local network and to your cable modem or upstream internet connection.
The low power consumption of this router means that it can be powered in multiple ways. The router can be powered by the included charger, by connecting to a computer or laptop with a micro-usb cable (also included), or using Power Over Ethernet (PoE) via the WAN ethernet port.
Most importantly, despite its small size, this router gives you access to all the functionality you've come to expect in a router running Gargoyle firmware. Gargoyle is the only firmware that can be used to easily set bandwidth quotas for your users and make sure network resources are allocated fairly. Further, Gargoyle Routers can monitor both bandwidth usage and can be configured to track web usage so you know what your users are doing.
Port forwarding can be enabled allowing access to the computers in your home LAN. Want to associate your WAN IP with a domain name? 16 Dynamic DNS service providers, including freedns.afraid.org, noip.com and dyndns.com, are supported, and can be configured within the web interface.
All Gargoyle Routers are 100% platform independent. The router can be easily configured with Windows, Mac OS X, or Linux using only a web browser. Internet Explorer users may need to install the Adobe SVG Plugin to view SVG bandwidth graphs. All features will work natively with the latest versions of Firefox, Chrome, Safari and Opera browsers.