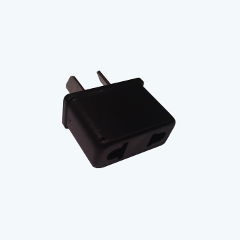 Australian Plug Adapter
This adapter will enable the use of U.S. style router power supplies with Australian/New Zealand electrical sockets. Routers sold in the Gargoyle store ship with power adapters that can already handle 240v or 120v AC current, but the plugs will not fit foreign power outlets. This small, cheap adapter is the solution.
Note that this adapter does NOT alter electrical voltage, it merely allows the insertion of a U.S. style plug into a Australian/New Zealand socket.